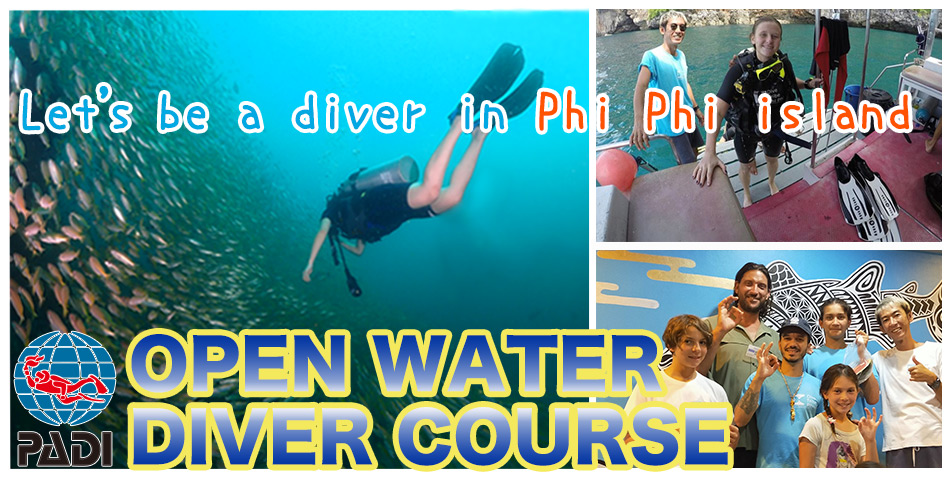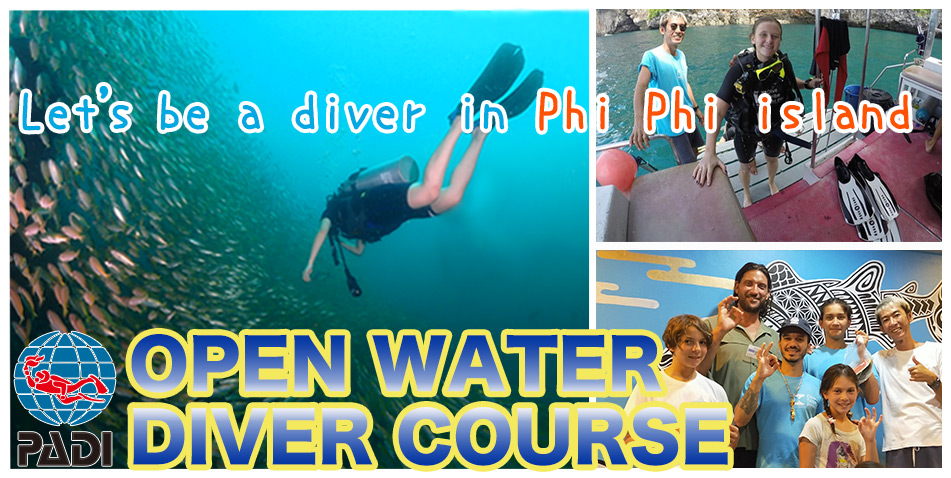 PADI Open water diver course is the most popular one in the world.
Basically, the course takes 3days. It has 3 parts: Knowledge development, Practice of diving skills in confined water(beach), then go to the Phi Phi islands diving spots for practicing (4types) by boat.
After the course, you will get a Certification Card. You can use it to dive up to 18m in all ocean in a lifetime.
How to book
Please book online via email.
※Please make an appointment at our shop one day before the course starts for confirm.
Please come to shop to fill in application forms, sign and confirm the payment and course schedule one day before the starts.
※Please check the notes of your course in advance.
Course Fee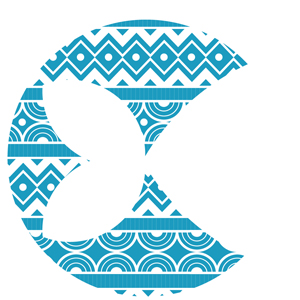 ・Event date: Everyday
・Application: Pre book necessary
・Age: over 10.
・Course days: 3~4 days
・Certificate validity period: Permanent without renew
・The maximum depth of diving:18m (Some juniors are 12m)

・Fee:14,400 Baht(13,800+National marine paek fee 600)
Cash or VISA・MASTER・JCB・UNION PAY(+3%)
Items included in the fee: instruction fee, boat fare, all equipment fee, diving computer, compass rental, textbook, log book, certificate registration, lunch for 2-day boat trip, drinks (coffee, tea, water), tickets of the national park for 2 days
Things to bring: swim wear, towels, sunscreen cream, motion sickness pills, photo for certificate (5.7cm 4.5cm) ※ You can take it in Phi Phi islands, it costs 100 baht.
※※※NOTES※※※
※After scuba diving, can not on board a flight within 12-18 hours. Please ask our staffs in advance if you have to on board a flight in the midnight at same day.
※If you have respiratory and circulatory disease, heart disease, epilepsy, asthma, ear disease and other health problems, you need a doctor's certificate before diving. Please contact us for details. Please confirm the Q&A form of health here (PDF format)
※Please be sure you have an overseas travel insurance before you leave your country.
※Minors need a Disclaimer Agreement which signed by their guardians.
※Don't drink before diving for eight hours.
※Time may change due to the ocean conditions or season. Please feel free to ask us.
※We are not responsible for any delay in the completion of the trip/course due to the ocean conditions and accidents.
※About Cancellation fee: If you give 14days notice then it will be charged 50%, on the trip day will charge 100%.
※If you or your friends who can't dive, you can go snorkeling on a half day boat trip for only 800 baht.